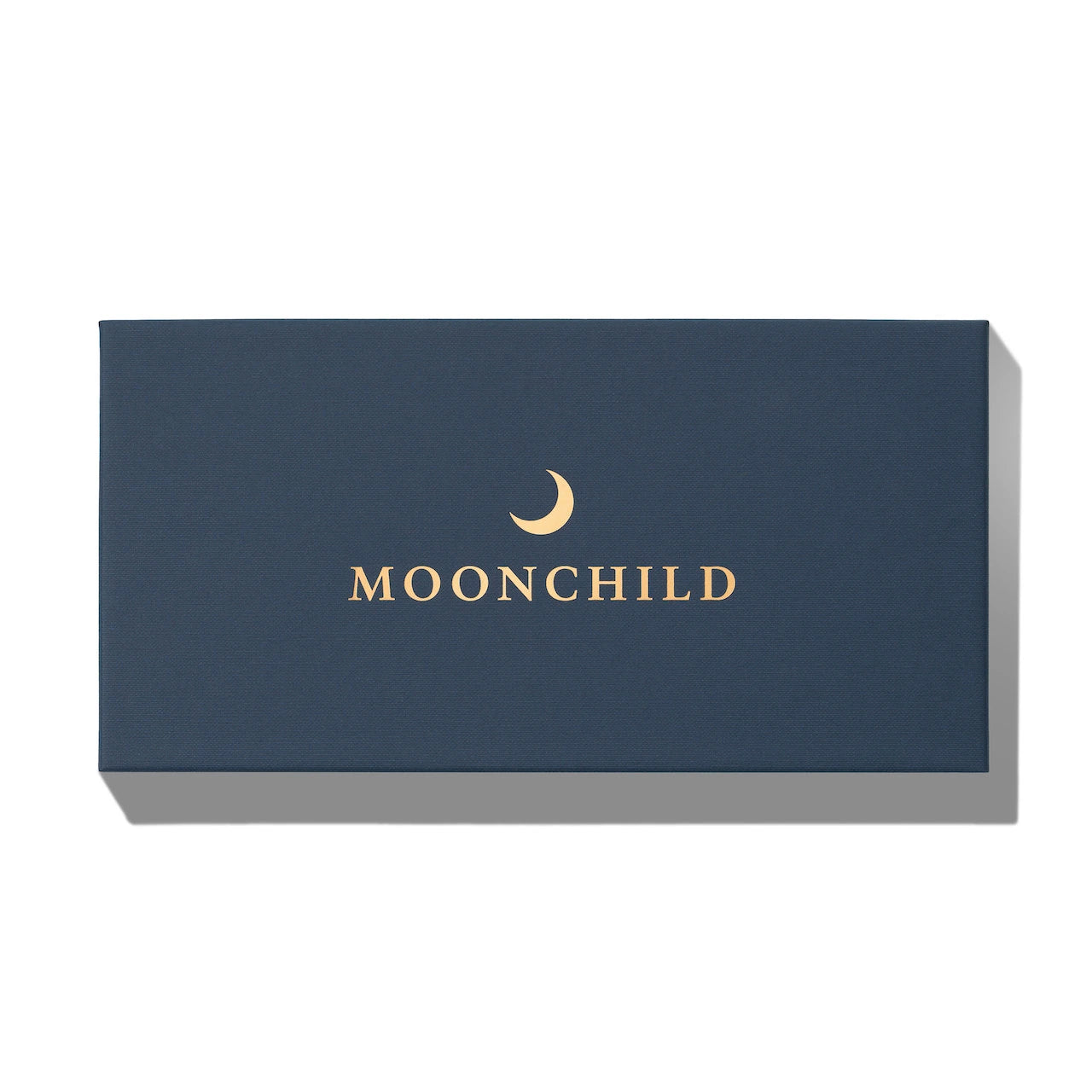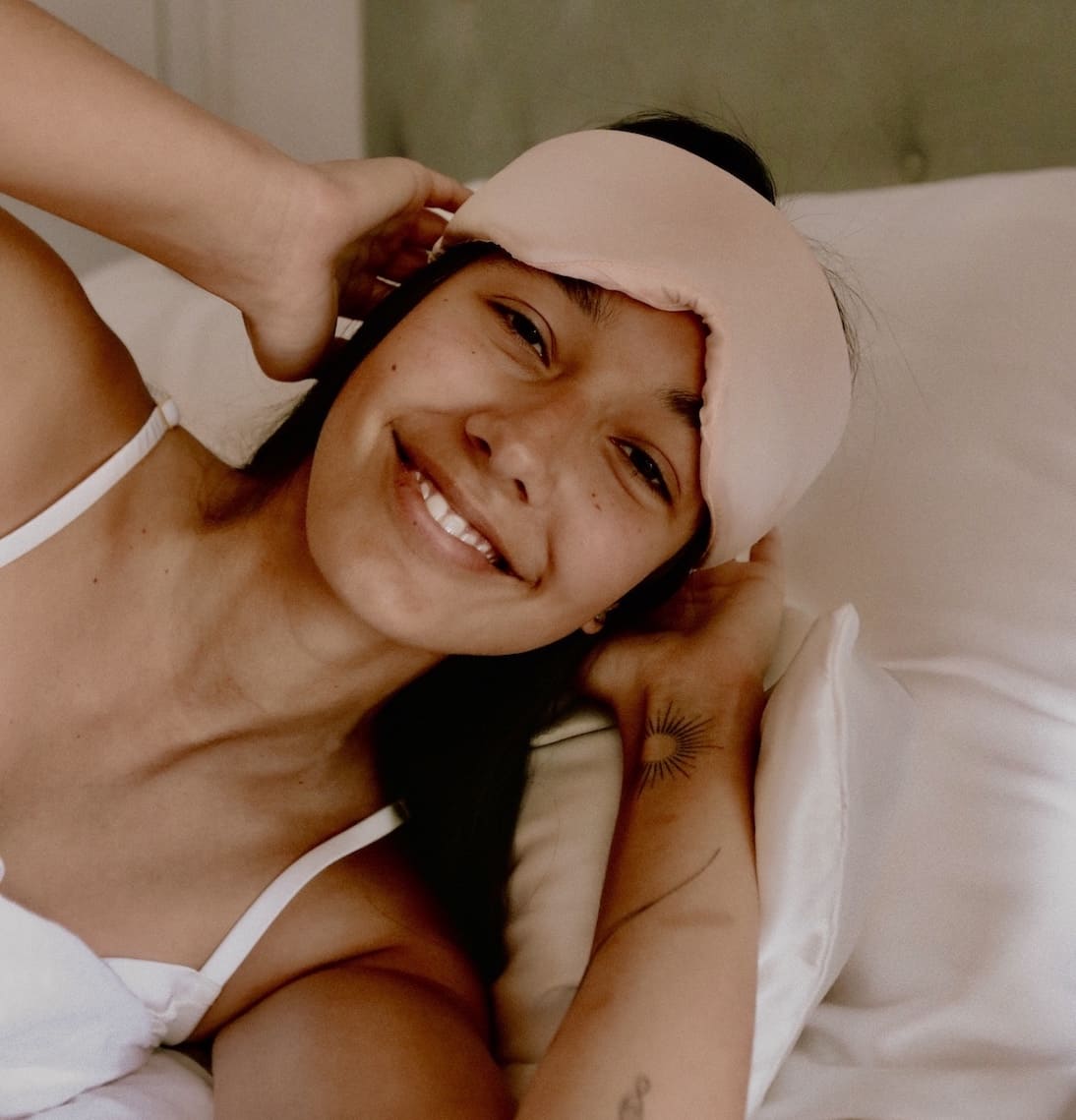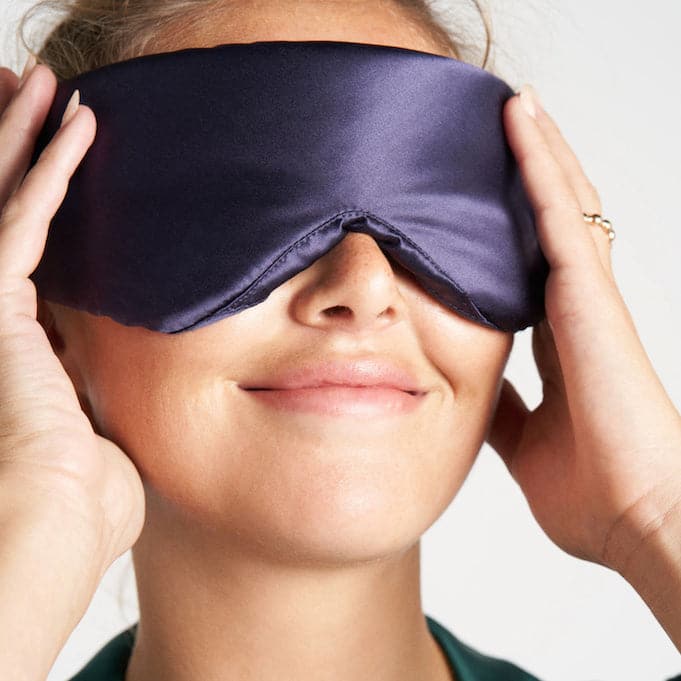 Silk Sleep Mask - Peace Silk
Express shipping - with you in 1-2 nights ☁️
Wake up well-rested and beautiful! 

The Moonchild Silk Sleep Mask with 3D Memory Cushion
is our luxurious snooze companion for deeper rests at night and undisturbed travels. Cooling and hydrating silk soothes our skin and helps prevent wrinkles. Wake up with that glamorous Sunday-morning-feeling, everyday - everywhere.
👓 Innovative memory core
A google shaped cushion avoids pressure on the eyeballs. The memory effect is activated by body temperature. Non-bulky sleek design. Ultra-lightweight.
〰️ Ultra-comfy
The 3D-effect silk mask gently adapts around the bridge of our nose and blacks out the environment. An advanced bias cut snugly conforms the mask to our eyes, creating a second-skin-like fit. Adjustable extra wide and soft headband. Designed to be comfy in all sleeping positions. Designed without velcro or plastic pieces to avoid tangles, frizzy hair and does not hurt the ears..
🌱 100% natural and organic silk
Cooling, hydrating and breathable silk with the highest grade quality: 6A. Only genuine natural silk has all the beautifying superpowers. Safe for the environment and us: no pesticides or toxins used. No animal is harmed with our vegan-friendly Peace Silk. Sustainably dyed in Italy. 
+ travel pouch
+ gift box
washable
ideal for side sleepers, stomach sleepers, lash extensions, sensitive skin, hot sleepers, insomnia, migraines, long-haul flights, meditation and savasana
---
Silk Sleep Mask - Peace Silk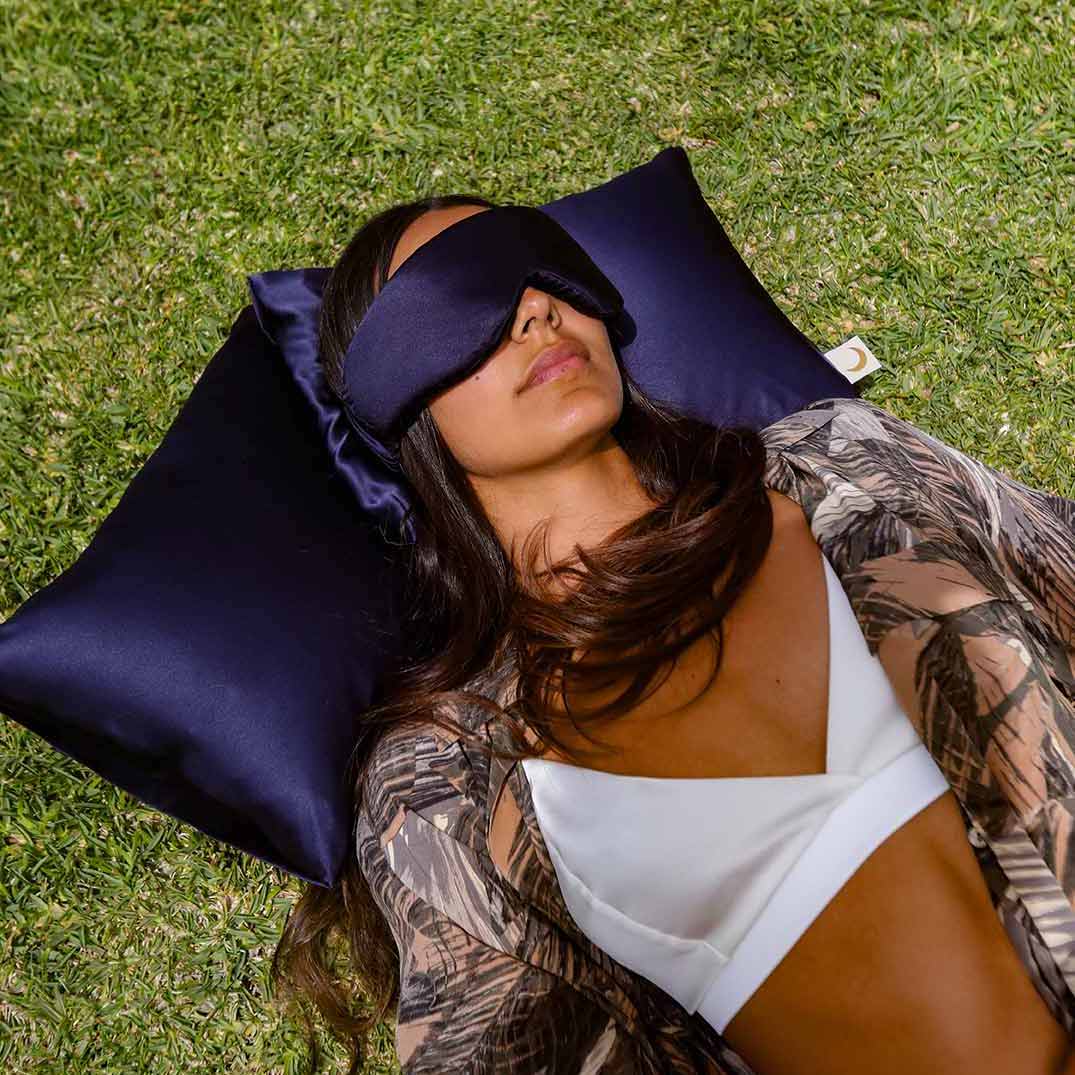 Sleep better - wherever you are
Your in-flight experience has been upgraded
A sleep mask helps block out light, thus supports an undisturbed melatonin production and deeper rest.
Sleep Better
Cooling in the summer, cosy in the winter. Silk is naturally hydrating, hypoallergenic and breathable.
Look Better
Silk helps to minimize friction, thus preventing sleep wrinkles.
Feel Better
Our Peace Silk is certified sustainable and sourced from a transparent and ethical supply chain.
The Moonchild Difference
- the closer silk is left to its natural state, the greater its beautifying superpowers.
Cruelty-free Peace Silk
No animals are harmed in our vegan-friendly production process.
Sustainable
Free from potentially harmful toxins and chemicals.
Recommended by Dermatologists
to soothe sensitive skin and calm symptoms of acne, dermatitis, eczema and allergies.
Hydrating and Cooling Silk
soothes the sensitive skin around our eyes and helps prevent wrinkles unlike any other fabric.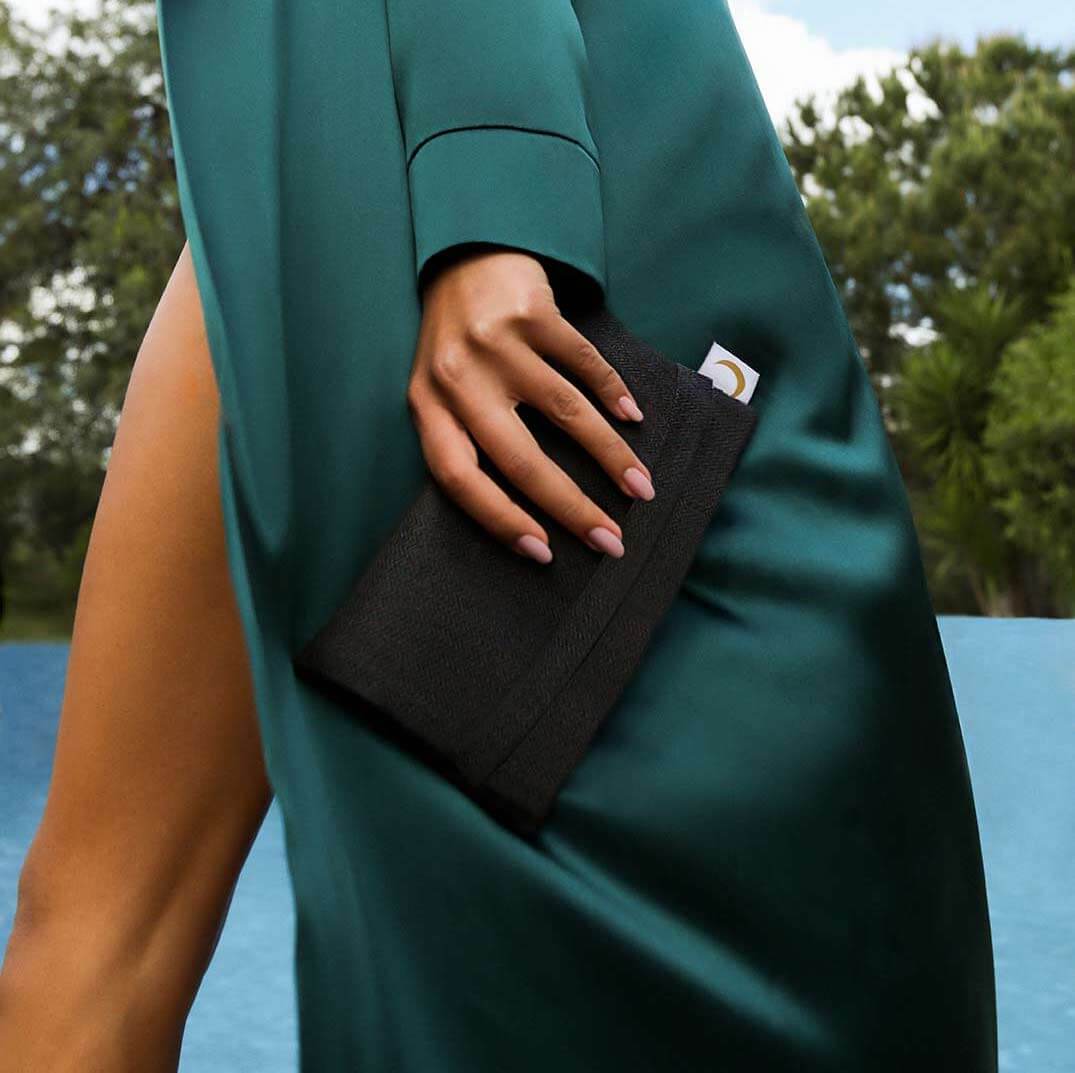 "

I can read from the fine lines on your face which side you tend to sleep on. A silk pillowcase is considered to be an anti-wrinkle tool because sleeping on a silk pillowcase can help to prevent sleep wrinkles and protects skin from dehydration.

"
"

Due to my frizzy curly hair, even 'good hair days' usually ended the very next morning: I would have to wash and style again, drying out my hair even more. A model colleague recommended that I try a silk pillowcase for natural hair. Everything changed when I started using my Moonchild Peace Silk pillowcase. My hair stays smooth and so does my skin – it's a complete gamechanger!

"
"

A silk pillowcase and sleeping mask from Moonchild are a must for all my trips. They transform every journey into a luxury getaway, so I always arrive at my destination relaxed and well-rested. What I especially love about Moonchild products is the slow-fashion, high-quality approach, and that they are produced sustainably and without animal cruelty.

"
Sehr schön
Die Schlafmaske dunkelt wunderbar ab und trägt sich sehr angenehm durch das breite Gummiband.
Tolles Produkt
Ich schlafe tatsächlich viel besser mit der Maske. Sehr angenehm auf der Haut.
Luxurious sleep
I didn't even know how much I needed it. Now I can't sleep without.
Best sleep mask!
I absolutely love this sleep mask! I've had trouble sleeping in the past, but since using this mask, I've been sleeping like a baby mostly.
Worth the invest
I bought it to reduce the wrinkles around my eyes. I already own the silk pillowcases but wanted additional protection for the sensitive skin around my eyes. I've only used it for a couple of nights yet but already see a difference.
The most sustainable silk
Always Free of 24:
PFAS
Flame retardants
Chlorinated benzenes
Chlorophenols
APEO, EDTA, DTPA, NTA surfactants 
Endocrine disrupters
Formaldehyde 
GMO
Heavy metals 
Azo dyes, carcinogenic dyes, allergenic dyes
Organotin compounds 
Plasticizers
DTDMAC, DSDMAC, DHTDMAC quaternary ammonium compounds
Chlorinated paraffins 
Cyclic siloxanes 
Microplastics 
Non oxygen-based bleaches 
meets the most refined tailoring
Tailoring Silk is an Art Only a Few Master
We sew with refined and long-lasting French seams. This classic and elegant sewing is the only suitable way to handle silk according to traditional tailoring.
Whereas many manufacturers have resorted to more cost efficient and less durable overlock seams, which are commonly found in industrial tailoring and fast fashion.
We take our time to meticulously handcraft each piece with our slow fashion approach. Our skilled seamstresses work with the most prestigious brands in the world. Why settle for anything less than perfection?
FAQ

What makes it so luxurious?

We challenged the conventional sleep mask design and embarked on a two-year creation journey to develop a brand-new design from scratch. Our skilled seamstresses invest more than one hour of labour into meticulously handcrafting each silk sleep mask.

Silk vs satin - what's the difference?

Moonchild uses 100% silk in a satin weave. Don't be fooled by satin sleep masks, which could be made of any fabric, such as polyester, which is neither organic nor provides silk's natural hydrating benefits.

Why is Moonchild silk special?

Our silk is certified organic and safe for animals, the planet and us consumers, too. Find our certifications here:
Shipping

Free 2 days express shipping

On all orders from 200€ within the EU and $300 / 300€ to the US and Canada.

Can I return my order?

Enjoy 14 days risk-free returns.